Tool & Die Components:
Work Holding Components:
Materials Handling:
Lubricators:

Pivot Punch Corporation is one of the world's largest manufacturers of punches, die buttons, retainers and custom made tools for the stamping and forming industry. All Pivot punches are manufactured in the USA.
To see Pivot's range of punch forms click here.
---
TONDRA-GENIC™ TREATMENT

Pivot Punch Corporation is introducing TONDRA-GENIC™ TREATMENT which is a new process that can be applied to all of our high speed tool steel products.

TONDRA-GENIC™ TREATMENT is a unique combination of two processes, Pivot's exclusive Tondra treatment and a specially controlled cryogenic treatment.

The Tondra Treatment portion of this new process produces an extremely hard case of 72-75 Rockwell for the ultimate in resistance to abrasion, firing, and galling. This process also adds lubricity to the surface which reduces stripping pressure. The cryogenic treatment portion produces maximum tool hardness and stability which results in greater toughness and shock resisting quality.

When TONDRA-GENIC™ is applied to piercing tools a 600% increase in tool life is not uncommon.For increased productivity specify TONDRA-GENIC™ TREATMENT on your next order from Pivot.

---
Coatings

Titanium Nitride (TIN)
Is an excellent general purpose coating for punches and dies to protect your tools from wear. TIN is a good choice for wear parts requiring resistance to abrasive and adhesive wear.
(This coating is recognized by its gold appearance.)

Titanium Carbonitride (TICN)
Is a high performance coating for forming and punching tools that encounter excessive mechanically stressed cutting and forming edges, and were high speed and feed rates are desired.
(This coating is recognized by its blue gray appearance.)

Hard Lube
Is a specialized multi layered coating. The base is a wear protective coating that is covered with a lubricative outer layer. This coating is most beneficial in forming operations.
(This coating is recognized by its black gray appearance.)
---
Steel Comparisons
Pivot PM 1O steel punches and dies take advantage of the unique properties of this Crucible Particle Metallurgy steel. It is designed with a tough, air hardening base analysis with added high carbon and vanadium. This provides PM 1O with a combination of exceptionally good wear resistance, toughness and strength for cold and warm work applications.

New grades: PM 3 and PM 15

PM 3 - great toughness

Toughness approaching S7
Wear resistance greater than M2
Use for impact situations instead of S7, for high toughness without giving up wear or coatability

PM 15 - great wear

50% - 100% longer wear life than PM 10
Same hardness, heat treatment as PM 10
Wear upgrade from PM 10, or replace FerroTiC, or use where carbide is too brittle
Wear Resistance
Impact Strength
Steel
Hardness (HRC)
Wear Resistance*
Steel
Hardness (HRC)
Charpy C-Notch* Impact Value (ft.-lb.)
PM 15
62
125
PM 15
62
10
PM 10
63
90
PM 10
63
15
PM 10
60
75
PM 10
60
25
D2
62
10
D2
62
17
M2
62
17
M2
62
17
PM M4
64
31
PM M4
63
30
A2
60
5
A2
60
36
PM 3
60
22
PM 3
60
75
S7
57
2
S7
57
108
*Reciprocal of the wear rate in unlubricated crossed-cylinder wear test in contact with rotating tungsten carbide cylinder.
*Standard size Charpy Test specimen and notch depth with ½ inch notch radius.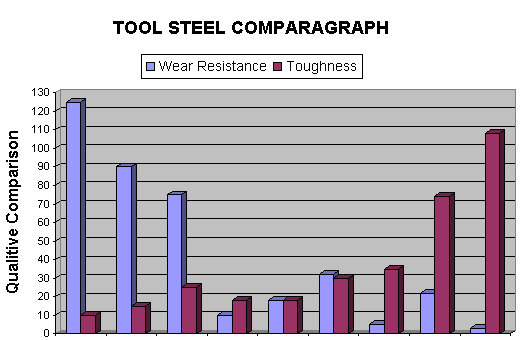 GRADE
PM 15
PM 10
PM 10
D2
M2
PM M4
A2
PM 3
S7
HRC
62
63
60
62
62
64
60
60
57
Note: This information is to be used as a guideline for material selection to help solve your punching requirements.
For enquiries, Contact GW Technologies here.