Tool & Die Components:
Work Holding Components:
Materials Handling:
Lubricators: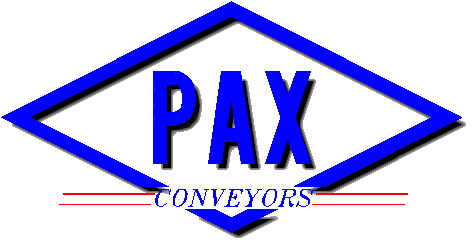 The Pax conveyor is specifically designed for on-bolster, under-die part and scrap removal. The "low-profile" design enables it to fit where many conveyors will not. Designed by Pax's own tool & die craftsmen, the conveyor is built to survive the rigours of any metal stamping environment.
The drive consists of a heavy-duty, totally enclosed fan cooled motor with a spur gear reducer and roller chain drive. The cast aluminium end assembly is an integral part of the chain drive housing, pulley support and motor mount.

Drive can be configured for the belt to travel away from or towards motor end.

Conveyors are available in widths from 4 to 11 inches, in one inch increments and 12 to 20 inches, in two inch increments.

Standard lengths range from 4 feet to 8 feet, in one-foot increments, measured over the length of the exposed belt. (Conveyors longer than 8 feet or configurations other than standard, are available as special orders.)

Standard left-hand-side motor drive or optional right-hand-side motor drive available.

Rugged, woven polyester PVC belt rides on a strip of high-density polyethylene to reduce wear and friction. Belt can be changed in under 5 minutes and can be reversed to extend service life.
| | | | |
| --- | --- | --- | --- |
| Belt edges are covered by flared sides of the pan, assisting with guidance of material onto the belt and preventing scrap from working under the belt. | | | Heat-treated aluminium castings are utilised where possible for heavy-duty, rugged support, long life, and reduced weight. |
Pax's low profile design requires only 2 1/2" clearance under die.

Once installed under the die, there is only 3/8" from the bolster to the top of the belt, allowing plenty of clearance for parts and scrap as they drop through the die and onto the belt.
Options:
Alternative Drives:

Right-angle motor drive and inverted motor drive options are also available, in left-hand and right-hand configurations.

R.A. and inverted drive models include self-adjusting belt wiper.

Stopped-belt sensor:

Used in conjunction with your press control die protection circuit to stop the press if belt is stopped. Minimises potential damage to die or conveyor resulting from belt stoppage.

Flush-mount tension end:

May be required in applications where the conveyor cannot be inserted completely through the die (requires either an inverted or right-angle drive with belt travel toward motor, which include self-adjusting wiper). The overall height of the flush-mount tension end is only 2".

Self-Adjusting wiper:

May be required in operations where there is a possibility of small slugs adhering to the belt. The wiper greatly reduces the chance of slugs entering between the belt and tray. The wiper is available for fitting at the tension end and/or the drive end of the conveyor.
Other options:
480/3 phase motor

Variable speed motor and control box

Adjustable support stands

Grease gun
For enquiries, Contact GW Technologies here.